Circuit Mania - Flower Kit
Please call 800.631.0868 x1 for more information about this product.
Availability:
Out of Stock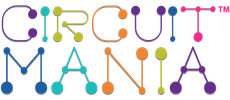 Circuit Mania™ – The fun, exciting and engaging way for kids to learn about conductivity, circuits and LED lights – FLOWER
Circuit Mania™ brings STEAM concepts into playtime for children ages 6+. These paper projects help cultivate a host of important skills: problem solving, trial and error, following instructions, and the basics of circuitry and conductivity. The kit includes 2 colored 5.5" x 8.5" colored paper with outlined drawing, 1 button battery, 1 LED light, conductive tape and a paper clip.

The included step-by-step instructions walk anyone through the process of creating their very own light-up Circuit Mania project. Kids can choose their favorite image or collect them all! It is the ideal to blend arts with STEAM education.
Specifications
Retail Box Dimensions: 9" x 6" x .5"
For Ages: 6+
STEAM Project: Circuits and Conductivity
STEM / STEAM Level: Beginner
Cut Out Paper: 2 Colored 5.5" x 8.5"
LED: 1 color changed LED bulb
Battery: 1 round button battery
Conductive Tape: 2 Strips
Clip: 1 Paper Clip
Warranty: 1 Year For LED Bulb and Battery
Product
Shipping
Master Pack
Weight (lbs)
0.11
0.5
0.5 Qty: 1
Dimensions (in)
9x6x0.75
10x8.9x2
10x8.9x2
Warranty
1 Year
Specification Sheets
Product
Shipping
Master Pack
Weight
lbs.
lbs.
lbs. QTY:
Dimensions
19.8x32x2.5
26x38x8
25.32x7.6x38
Warranty
1 Year