In need of headphone cushion replacements but can't find the right size? Searching for standards-aligned STEAM products with included lesson plans? Maybe kids are getting distracted in the classroom and noise-canceling headphones aren't an option.
No matter what problem a classroom is facing, there are a variety of different problem solvers to make life easier for teachers and help keep students on track.
K-12 Problem Solvers for Today's Classroom

Trios™ Universal Headsets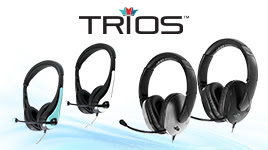 The Trios™ series are the only headsets you will ever need to connect with any of your devices – old or new. Trios™ are durable and versatile - the perfect problem solver!
Whether a school is upgrading equipment or still using older technology, Trios™ headsets will be a valuable addition to any classroom!
NoiseOff™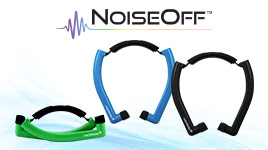 For distractions in the classroom, NoiseOff™ is a simple, elegant, and affordable option. Reduce environmental noise and keep students focused all without electronics or eliminating their ability to hear speech.
NoiseOff™ is both for kids that are sensitive to loud noises or easily distracted in the classroom.
Universal Ear Cup Cushion Replacements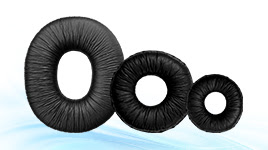 Finding the right cushion replacements for headsets and headphones can be challenging but the Universal Ear Cup Cushion Replacement Kits from HamiltonBuhl® make it easy!
Don't buy the wrong replacement ear cup cushions. Universal ear cup cushions are always the right choice.
HygenX™ Headphone & Headset Covers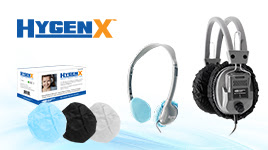 Stop germs and lice from spreading and keep the classroom clean and healthy with HygenX™ disposable covers.
Find disposable covers for microphones, deluxe and personal headphones and headsets and there are even biodegradable NatureWeave™ options, too!
HygenX Vray™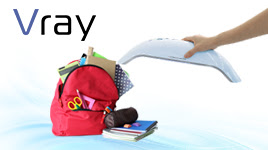 This easy to use, portable sterilizer eliminates 99.9% of bacteria in less than 5 seconds! Keep kids in class and create a sanitary environment for teachers.
Solve the cold crisis by making sure Vray is a part of every classroom!
Flex-Phones™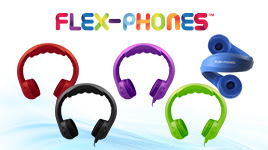 Tired of students breaking headphones? Flex-Phones™ are exactly what you need.
These groundbreaking headphones are soft, flexible and indestructible, specifically designed to withstand the rigors of the K-12 environment! Awarded Scholastic Teacher's Pick as "The Best of 2015" and certified for all major USA and international child safety testing standards!
SoundKey™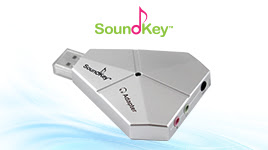 This adapter keeps schools ahead of the ever-changing tech ecosystem!
SoundKey™ easily converts 3.5 TRRS, stereo audio and microphone plugs into a USB compatible headphone or headset and comes in a compact package. This is a must-have problem solver as technology advances rapidly!
TRRS Adapter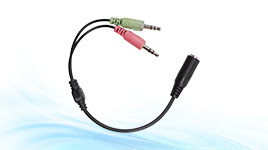 Upgrading technology shouldn't hold your students back. The TRRS Adapter could be the perfect solution.
Use the TRRS Plug Adapter and easily convert any headset using a single TRRS plug into a dual plug used by older computers. Take the headaches out of tech upgrades!
Audio Safe Control Cable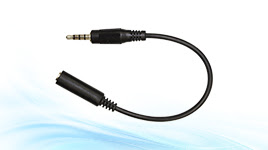 Make sure students aren't damaging their hearing during a listening activity. Audio Safe Control Cable limits the volume delivered to a headset from any audio source without controls or buttons.
SKOOOB™ Earbuds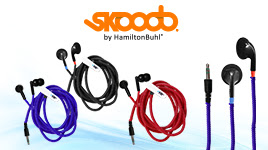 SKOOOB earbuds eliminate annoying tangled wires. These protective covers are lightweight, durable, and made of TPU plastic that keeps cords from stretching, kinking, tangling and collecting lint!
Bonus Problem Solver

Teacher Resources & Standards-Aligned Lesson Plans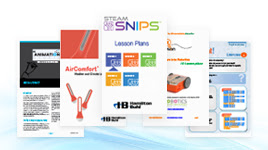 Teachers and schools are actively working to introduce new STEAM products into the classroom to offer students the best, most relevant education possible.
HamiltonBuhl® provides FREE Standards-Aligned Lesson Plans and Teacher Resources to help teachers inspire!
Prop 65 Compliant Product List for California Schools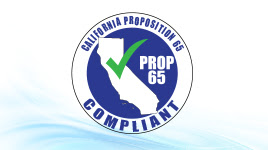 California revised Proposition 65 and now schools are seeking products that comply with the new regulations. HamiltonBuhl® created this list of Prop 65 compliant products to make life a little easier.
California schools can find exactly what they need. Proposition 65 compliant products in one place!
HamiltonBuhl is home to countless classroom problem solvers and educational necessities. From tried and true products that have been in schools for years, to brand-new STEM / STEAM tools and resources, anyone can find the right educational products to meet nearly any need. Come discover even more problem solvers and classroom necessities right here.