HamiltonBuhl AudioAce™ Portable Bluetooth, CD, Cassette and FM Boombox
Availability:
In Stock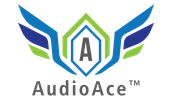 HamiltonBuhl AudioAce™ Portable Bluetooth® Media Player
The HamiltonBuhl® AudioAce™ (MPC-5050) is built to deliver on the multimedia needs and demands of today's classrooms. This versatile boombox accommodates both old and new technologies! Play CDs, cassette tapes, FM radio, and with built-in Bluetooth®, wirelessly stream music through the boombox from your tablet, smart phone, computer or any other Bluetooth-enabled device. You can even playback media from non-Bluetooth® devices via AUX IN jack. Designed and built to withstand the rigors of classroom use while providing high quality sound, the teacher-approved AudioAce™ is an excellent choice for classroom and listening center use!
With a built-in jackbox and exclusive set of six (6) built-in 3.5 mm headphone jacks, located on the back of the boombox, you can easily turn this boombox into a listening center.
Specifications
Built-in Bluetooth® to stream audio from Bluetooth-enabled tablets, smart phones, computers and other devices
Programmable CD player with repeat play
Plays: CDs and cassette tapes
FM Radio
Playback non-Bluetooth® devices via AUX IN jack (cable not included)
Built-in cassette recorder, record from Bluetooth signal, AUX IN jack, FM radio and CD
6 x 3.5mm headphone jacks
Power: 4W RMS
Dual power: AC or 8 "C" batteries (not included)
Prop 65 Compliant
Product
Shipping
Master Pack
Weight (lbs)
5.95
6.75
27.5 Qty: 4
Dimensions (in)
6x9x12
18x14x12
22.32x14.72x13.46
Warranty
1 Year
Product
Shipping
Master Pack
Weight
lbs.
lbs.
lbs. QTY:
Dimensions
19.8x32x2.5
26x38x8
25.32x7.6x38
Warranty
1 Year
Product
Shipping
Master Pack
Weight
5.95 lbs.
6.75 lbs.
27.5 lbs. Qty: 4
Dimensions
6x12x9
12x18x14
22.32x14.72x13.46
Warranty
1 Year